Till 'Debt' Do Us Part
by Rawle Rollocks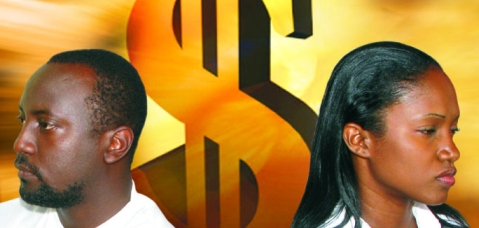 You're in love and you're thinking about getting married. Already you can picture yourself at the altar-reciting vows, kissing relatives, giving your speech and flying off to your dream honeymoon.
Sounds familiar?
The truth is that most couples will plan their wedding with greater care than they plan their first year of financial interdependence. Moreover, the subject of finances can be one of the most divisive forces in any relationship. It has been estimated that 50 per cent of the problems in marriage involve finance. And discord over management of the family purse is a leading cause of marital conflict and divorce.
"Till death do us part," our vows say, and it's true in a way we never expected. Maybe it should read, "Till debt do us part."
It is very likely that couples will have some conflict over finance if only because of the different attitudes and ideas about money that they have learnt previously. Therefore, it is advisable for the couple to discuss the issue and agree on their financial arrangements even before their nuptials.
Financial conflicts, when they do arise, all seem to occur because most of us never sharpened our financial IQ and we do little or no financial planning. Even when we have a working knowledge of the biblical principles on money and we understand finance, many of us still battle with over-indulgence, greed and selfishness.
Moreover, because individuals in a relationship anticipate a heated argument or are afraid of exposing some of their insecurities in this area, they tend to put off that all-important discussion or at best hide their true feelings (or financial status) when one actually occurs. This is often not a fun discussion, but it should take place sooner rather than later. Let's explore some of the key aspects of such a discussion.
What do you or your prospective partner understand about the Bible and Money?
It must be understood that this is not uncovered in one or two discussions but over time as you both interact. Most financial conflicts can be resolved when both persons individually apply the biblical philosophy of money. Both must be equipped with the following understanding as the foundation of financial unity in marriage:
Primarily, it is the Lord who gives a person the ability to earn money. Whatever we have belongs to the Lord who has entrusted it to us as stewards. For believers, giving to the Lord is a privilege, a responsibility, an investment and a symbol of worship.
What is your partner's attitude toward money?
Understanding your potential spouse's attitude toward money is essential. Past significant experiences and generational issues can have both positive and negative effects on individuals' attitudes toward money. People do not readily admit this but money controls many aspects of our lives.
No matter how financially astute individuals in a relationship may be, these fundamental issues can cause conflict because they influence financial choices that can railroad the couple's financial stability and undermine the marriage itself. When left unchecked, these issues give rise to fear, greed and selfishness rather than trust, gratitude and generosity.
If not brought out into the open before marriage, these issues will continue to manifest themselves in constant arguments during the marriage. Couples should apply a great degree of sensitivity, transparency and patience undergirded with prayer, because these are deeply ingrained issues that may take years to understand and overcome.
What are some of your major life goals and what is your financial plan to achieve them?
As a couple, each should know what are the other's major life goals and get a sense of when and how you would like to achieve them.
Making an assessment of where you both are financially is also important here. One effective means of doing this is by determining your Net Worth. This is simply the difference between your assets and your liabilities; in other words, the difference between what you own and what you owe. What is the extent of debt that you both bring into the relationship, and how do you both intend to treat with it?
Where insurances or any other major savings instruments exist, how do you feel about who you want as beneficiaries?
Pages
1
2
Comments
Post Commment