Watch What You Watch!
by Desiree McEachrane
There's a line in the movie
Jerry Maguire
where Jerry whispers, "You complete me," to Dorothy. And she whispers back, "You had me at hello."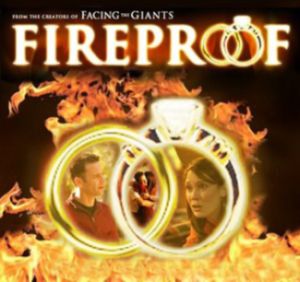 Promo for movie Fireproof
Avid moviegoers identify with Dorothy. We don't need to know the rating or what the critics are saying about a film. It got our attention at the 30 second teaser trailer three months before the release. At least, that's how I felt about
Iron Man
and the brand new
Star Trek
... and about the
Lord Of The Rings (LOTR)
trilogy, or
Seven Pounds
or
Madea Goes To Jail
. But I wasn't always like this.
Enter here the 'outdated' Christian worldview. Those of us old enough to recall know that at one time, cinema-going was not kosher in evangelical Christendom. In fact, Christians did not participate in anything considered 'secular' - a worldview known as separatism. Pastors and laymen alike quoted several scriptures to support this worldview:
"Therefore come out from them and be separate, says the Lord..." 2 Corinthians 6:17
"This is pure and undefiled religion in the sight of God our Father, to visit orphans and widows in distress and to keep oneself unstained by the world." James 1:27
"...If anyone loves the world, the love of the Father is not in him." 1 John 2:15
In Trinidad and Tobago in the 1950s, you wouldn't dare bring a steel pan into the sanctuary, since the pan was associated with criminals. Calypso was for Carnival, another no-no in Christendom. Similarly, cinema-going was taboo because movies portrayed lifestyles that Christians weren't supposed to even talk about, much less witness onscreen.
However, over the years there's been a realisation that for the church to be relevant to its community and win souls for Christ, separatism was not the answer. After a long journey, the West Indian church now accepts steel bands, electric guitars, African and tassa drums as part of the worship contingent. Pioneers like Nicole Baloosingh-Holder and Sean Daniel braved criticism and near-ostracism to sing gospelypso. And every night, movie theatres are filled with the same people you see next to you on Sunday morning. The new Christian rationale is similar to what Paul said in 1 Corinthians 9:22 "...I have become all things to all men so that by all possible means I might save some."
But have we gone too far? Now there are sites like Hollywood Jesus that review "pop culture from a spiritual point of view." And it isn't shy about what it reviews; from the innocuous Ice Age 3 to occult horror flick Drag Me To Hell. Many Christians routinely watch movies that feature premarital (sometimes teenage) sex, revenge themes (where we cheer for the one getting revenge) and a fluid stream of obscenity.
Twenty six year old Nikisha from Antigua admitted that 'biblical principles' are not her first concern when she watches movies or surfs her cable selection.
"I prefer to actually watch kids movies; the messages are amazing! But occasionally I go to R rated movies and stoically sit through the bad words."
Others see similar patterns in their own lives.
"I've realised that while I often claim to be 'guarding my heart' by avoiding shows that normalise the occult, I happily watch shows that normalise obscene language and sex before marriage," said Roselle, 30, from T&T. "My initial thinking is that I honestly don't see those things as such a big deal. Does God think they're a big deal? I'm not sure."
So how does the modern Christian glorify God AND be relevant to the world in which we must live? In his book The Journey Toward Relevance, Kary Oberbrunner said that neither separatist nor conformist Christians are in the running to winning the world for Christ.
"The first camp [separatists] separates itself from people, society and culture for the purpose of remaining unstained by the world ... The second camp [conformists] conforms itself to the ideals, philosophies and goals of the world ... Imbalance, not love, characterise both camps. As a result the Bride of Christ, the Church, lies wounded in the gutter of irrelevance."
Oberbrunner proposes that true relevance comes when Christians are struggling to become transformists, "a gathering of committed believers who thoughtfully balance faith and culture." Transformists, he said, have a balance between loving God and loving people. This jibes with Romans 12:2, "...be transformed by the renewing of your mind. Then you will be able to test and approve what God's will is-his good, pleasing and perfect will."
How do we apply that balance to our movie habits? Bob Smithhouser, author of Movie Nights For Teens: 25 More Movies To Spark Spiritual Discussion With Your Teen, quoted horror novelist Stephen King: "Movies are the highest popular art of our time, and art has the ability to change lives." With this profound statement in mind, Smithhouser discusses the plots, themes and ratings of 25 PG-13 movies, showing parents how they can use the flicks to teach their teens biblical principles, although the movie may not be inherently biblical. The book examines a wide range of films, from the 1976 cult classic Rocky to the LOTR trilogy, gives cautions, bible bookmarks and follow-up activities for Christian families, teaching them how to balance their faith with culture consumption.
Tired of having to constantly think through the biblical implications of everything you do for fun? Maybe we also need to find alternatives to movies when we're looking for pure amusement, and think about where our priorities lie. Keron, 26, said: "Too many of us resort to cinema-going as entertainment. This bothers me because our prayer meetings are empty and our evangelical drives are decreasing. Let me just say here that I am not against cinemas or movies but I am against our unjust balance."
Pages
1
2
Comments
Post Commment