Countdown to Fred
by Upstream Reporter
Internationally-acclaimed songwriter, bassist and vocalist, Fred Hammond, is coming to Trinidad to perform
Promotional poster
at the Queen's Park Savannah on Friday, June 19th (Labour Day) for a ground-breaking concert event entitled "Illumination".
On this occasion, Hammond will headline a musical fusion of Jazz, R&B, Soca, Reggae, Neo Soul and Dancehall performers, enhanced with stage theatrics, instrumentals and T&T's leading youth choir. Alongside Fred will be some of T&T's leading Gospel ministers including Koen Duncan, Vanessa Briggs, Russell Leonce, Sean Daniel, Michael Dingwell and Ancil Valley among others.
And this time, the organisers are actual Christians, and not just fete promoters trying to get a piece of the Gospel pie! Ancil Valley, a name that is synonymous with quality, versatility and a heart for the local gospel industry, is the main man behind Illumination. Valley, who has been performing since he was eight, is best known as the founder of the gospel band Broadway Boyz International, and co-executive producer of the group's debut album Rhema. In 2007 his hit song "Father" gained him entrance into the National Action Cultural Committee's (NACC) Generation Next Calypso Tent. The song went on to win the inaugural Trinidad and Tobago Gospel awards "Best Song Performed by a Group" category. In 2008, the Illumination concept was born, as a production designed to incorporate the performing arts of dance, drama, poetry and music into one memorable gospel concert experience. The first installment was held at the Naparima Bowl, Trinidad, in April 2008 to rave reviews. Jamaican Gospel reggae icon Stitchie, thrilled the crowd with a well received guest appearance.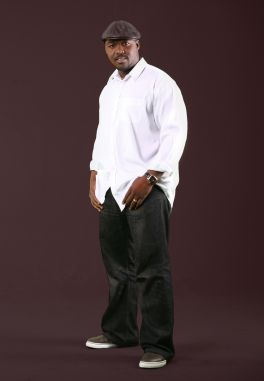 Ancil Valley
In Illumination 2009, the organisers promise to exceed expectations as the headline act comes with his full band for what many consider a long overdue evening of praise, worship and ministry that will draw persons from North, South, East, West, Central Trinidad and even Tobago.
Over the course of his career, Hammond has achieved an unprecedented level of consistent sales, radio airplay and concert appearances. For more than 28 years, the music industry has recognised Hammond as a gifted musical arranger and producer, but it is his work with his own company, Face to Face Productions that has earned him the title of "The Babyface of Gospel".
Between his work as a solo artist, the founder of the pioneering urban groups, Commissioned and Radical for Christ combined, Hammond has sold over 8 million albums worldwide. These achievements have made him a mainstay amongst the Top 10 on Billboard's Gospel Chart, along with frequent appearances on the prestigious magazine's Heatseekers and Music Video Sales charts.
As if that were not enough, Hammond's work as a producer landed him in the #1 spot among gospel producers, according to the Gospel Music Round-up. Throughout his professional career, Hammond has maintained a reputation for excellence, racking up numerous awards and nominations including the Grammy, BET, NAACP Image, Stellar, Dove and GMWA
Vanessa Briggs
Excellence Awards.
Beyond Hammond's individual success, his achievements as CEO of Face to Face Productions and the FHammond Music Label have placed him in a class by himself. Since their inception, Hammond has served as producer on more than 80 album projects. With that level of productivity, it is not surprising that the Face to Face sound has dominated the gospel marketplace. Their recent success in bringing the praise and worship format to the African-American church has resulted in the development of a new genre of gospel music, Urban Praise & Worship.
As the architect behind the new phenomenon in Gospel music, Fred has become one of the most respected names in the industry. His previous Release, Pages of Life: Chapters I & II has exceeded Double Platinum sales status and held the #1 position on the Billboard Gospel Charts for over 15 weeks. His latest release, Free To Worship bombarded Billboard's #1 position on the Gospel Charts, and was hailed as one of the best-selling gospel albums of 2006. The debut single off the album entitled "In Case You Missed... And Then Some", featured the new artists on the FHammond Music Label, including: Joann Rosario, Shea Norman and The Singletons and has sold well over 200,000 copies.
In his ongoing evolution, Hammond has taken his creative savvy to the next level by moving from the stage to the big screen with the movie, The Gospel. This feature film was inspired and Executive Produced by Hammond and boasted a stellar cast, including: Boris Kodjoe, Nona Gaye, Donnie McClurkin, Yolanda Adams, Hezekiah Walker and Martha Munizzi. In his latest venture, Hammond will serve as producer for the soundtrack to the upcoming feature film, Mamma I Wanna Sing.
Koen Duncan
In spite of all these studio projects, Hammond continues to take his special brand of gospel to audiences around the world and performs for an average of 30 weeks per year. He has headlined thousands of concert dates, in addition to television appearances on the nationally syndicated Stellar Awards, Lou Rawls Parade of Stars, BET's Celebration of Gospel Music, BET's Walk of Fame, 106 & Park, NAACP's Tribute to Stevie Wonder, as well as TBN's highly-rated shows The Pat Boone Show, Praise the Lord and The 700 Club.
Halfway through his third decade in the industry, Hammond shows no signs of slowing down. In 1997, he shared the stage with Kirk Franklin and Yolanda Adams, performing before more than 500,000 people on the most successful tour in gospel music history: The Tour of Life. In 1998, he continued to find touring success as the Creative Director and Featured Artist on Walt "Baby" Love's Power 98 Tour, ALW's The Living Proof Tour and ALW's The Shout 2000 Tour.
Amazingly, Hammond continues to take the entertainment industry by storm, writing and directing the smash hit musical drama, Been There, Done That with America's favorite TV Judge, Greg Mathis. His acting skills were acknowledged during work on the hit play "Only The Strong" and this earned him several Daimler-Chrysler commercials.
In order to provide a complete portfolio of integrated entertainment services, Hammond recently launched an Urban Entertainment Company entitled, FHammond Family Entertainment, Inc. This company will cater to the exclusive needs of the urban family market with core offerings including: a film division releasing direct-to-DVD titles; a music and book publishing division; an online multi-media website, including radio programming and streaming video content; theatrical presentations; as well as perpetual music production from new and established artists under the famed, F. Hammond Music label.
Pages
1
2
Comments
Post Commment