What Colour is Love?
by Pearl D. Griffith
Not all relationships survive the pressures of interference that feed racial prejudice and perpetuate isolation in families. Some end tragically as we all know. Yet so many bi-racial and bi-cultural couples are forced to build a case to defend their right to love each other and to marry their choice of mate. Spouses have had to apologise to their mates for insults hurled at them by their in-laws and other relatives, or beg unyielding prejudiced significant others to accept their spouse.
Whether the threat of disinheritance, the rejection of a chosen spouse, or the denial of the right of every child to bond with a grandparent, hurt can be hid for awhile but it never dissipates entirely. Scars remain, sometimes affecting generations.
Lisa Ramsumair-Hinds, an Indo-Trinidadian magistrate and her Afro-Jamaican husband, Courtney, an IT Programming student, were among a small group of couples discussing their experiences as spouses of mixed ethnic origin. They met nine years ago at UWI, Barbados where Lisa was studying and Courtney was visiting for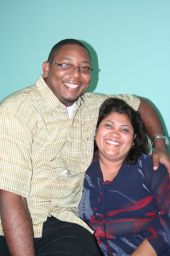 Courtney Hinds and
Lisa Ramsumair-Hinds
the Inter-Campus Games. It was love at first sight. After he returned home, they chatted online every night, formalising their relationship four months later when Lisa transferred her studies to Jamaica. Shortly after their marriage in 2004, they both accepted Christ. They are the parents of a daughter aged seven, and a son, five.
Where dating is concerned, Courtney had no preference. Lisa, on the other hand, never felt attraction towards persons of the same race but developed a preference for persons of African decent out of a deliberate rebellion against her parents expressed racist views. Neither expected the possibility of an inter-cultural relationship but the differences in their culture and language, made them embrace the peculiarity of their relationship.
Courtney's family welcomed Lisa immediately, but offended her by their popular use of the word 'coolie' to refer to people of East Indian origin. She later discovered that this was a Jamaican term of endearment for people of her race.
Lisa's parents on the other hand were closed to the relationship. Her father died one day after expressing his bitter, intense racial bias. Lisa returned home with her family not knowing that he had never accepted the 'blackness' of Courtney and her children. "It still hurts immensely to know that my father, with dying breath, had rejected my spouse," Lisa confesses. Racism remains deeply rooted in her family. Lisa prays for guidance, but Courtney is not worried.
Bharat and Ave Ramesar

Bharat and Ave Ramesar knew each other since they were both twelve. They met at church and sang together in a group called the 'Humming Birds.' Years later, when they met again they discovered love and marriage was their destiny.
Bharat, a Production Supervisor, and his wife Ave, who is an Information Technology officer, are married twenty-four years, and they are the proud parents of a son and three daughters. Before marriage, both were open to dating persons of another race but Bharat, an East Indian, kept his preference for girls of African descent, like Ave, a secret from his parents because of their cultural preference to maintain same race relationships and marriages within the family. Both families had known each other for so long that friendship and ethnicity never posed a major problem until Bharat and Ave disclosed their intention to marry.
The Ramesars admitted concern that their children would find genuine acceptance with their grandparents, but grandparents on both sides love and accept their grandchildren unconditionally.
Desmond and Helena Lue Chee Kong met at a youth rally in San Fernando on September 24th, 1987.
Desmond, a Trinidad-born Chinese, and his wife Helena, an Afro-Trinidadian, were both open to dating persons of another race, but it was love at first sight for them. Desmond had been praying to God for a spouse, and as soon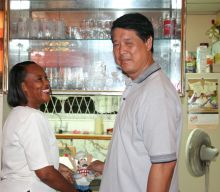 Desmond and Helena Lue Chee Kong
as he saw Helena, his heart went after her. She too loved him at first glance. He pursued and wooed her and eventually won her heart. Helena's parents approved, but Desmond's father let Helena know quite early, that she was a [N-word ]. Helena admits, "I still feel the pain of that first encounter with racism."
Married fifteen years, they are the parents of a daughter and a son. Desmond is a salesman, while Helena is an IS/IVCF staff worker who feels called to become an evangelist.
Under constant pressure from family rejection, arguments about their racial and ethnic differences began to surface between them after eight years of marriage. Although Helena's parents and in-laws relate well with their grandchildren, she has not always felt their warmth. She found acceptance in the group, and comfort in being able to share her feelings openly and without apology. Helena has totally forgiven all those who have ever displayed racial tendencies towards her. Instead, she feels a great love for the Chinese community and a calling to become an evangelist to them.
Pages
1
2
Comments
Post Commment