You Might Also Be Interested In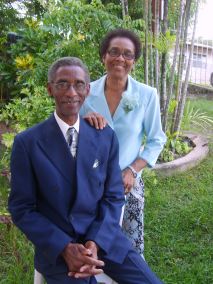 First Deacon of M.P.C Brother Dickson Phillip
Daybreak Assembly Mass Choir
Daybreak Assembly celebrates 13 years

A Man with a Vision
Rev. Dr. Alister Alexander

In the late 1970s and early 1980s, God placed a vision in the heart of Pastor Alexander to build a larger church. This church's mission was not just to be large, but its purpose would be to develop and equip as many people as would be called to full-time ministry, to evangelise the community, nation, region and the world.
The church made several applications for the acquisition of land, all of which were turned down (one of them being the present site for the Almond Drive multi-story buildings). The Pastor and the Church board, however, never gave up and identified yet another site- Poinsettia Drive, Coconut Drive.
The Church prayed earnestly for the acquisition of the land. In the meantime, the Holy Spirit was adding to the congregation at No.1 Cipriani Street. Eventually, in 1984, as a stop-gap measure, the entire yard of what we affectionately called the church house' was paved and galvanized roofing installed. By then the congregation had caught the Pastor's vision and were ready to commence the building of the 'new church'. Plans were drawn up and construction began on the new site in 1992.
| | | |
| --- | --- | --- |
| | | |
| Sod turning ceremony | Foundation | Members at work |
We set out to build this church with little or no borrowed funds. The task seemed daunting, but for the fact that we served Jehovah Jireh and we knew that He would provide. It took us four years, a lot of late nights, a lot of hard work and a lot of money but we dedicated the church on Independence Day (August 31st 1996) debt free! We even, like most great men of the Bible, received a name change. We now call ourselves DAYBREAK. Indeed a new day did dawn!
Our work is not yet through. We still have a community, country, region and world to reach with the Gospel of Jesus Christ.
Now that the day has broken, it's time for us to work. For the night cometh when no man can work.
| | | |
| --- | --- | --- |
| | | |
| Daybreak Assembly | Daybreak's youth choir during a production | A group of former members now based in the United States |