Business Minds Who Believe
by Desiree McEachrane
If you believed that 'business minds' all belong to an exclusive club that you could never join, think again. Tucked away in the most unlikely places, sometimes doing what seemed impossible, these Christian entrepreneurs, CEOs and Managing Directors are giving chase to the phrase "poor as a church mouse". Upstream Magazine got these entrepreneurs to share their secrets: getting started, the factors critical to their achievement, guidance for those getting started, their most daunting moments, and the money advice that shot them to the top.
Reverend Margaret Elcock - President and Founder of the Family Focus Broadcasting Network (FBN) and Isaac 98.1 FM
Margaret Elcock
Margaret Elcock has been a broadcaster for over 20 years and holds the distinction of being the first woman in Trinidad and Tobago to found a national radio station, Isaac 98.1 FM. FBN is a media ministry that was born because of her decision in 1988, to broadcast for "God and God alone." It epitomises the fusion of her core competencies in communication with her faith in God. The drive-time programme she hosts every morning on Isaac 98.1 FM from 6 to 9 a.m. became the Number 1 morning programme in the nation within two years of its debut. Elcock is a trustee on the Board of the International Third World Leaders Association (ITWLA), led by Dr. Myles Munroe of the Bahamas, and was ordained as a Minister by that organisation. Elcock is also happily married to retired Industrial Court Judge, Justice Lloyd David Elcock, with whom she's raised five children.
Isaac 98.1 FM has blossomed, it has expanded even more than we expected. The onset of Isaac has propelled FBN to the highest level. We celebrated five years in August last year. We are now on the World Wide Web, have been for more than a year and we get feedback from the Far East, Kosovo, Japan, Alaska, Europe and the United States. The nation needs what we're giving out, because we minister to people's spirits, we teach people, we deal with all topics, for every strata of the society. We have become a hub of ministry to the people. I think we're the only station with programming for everybody - children, young people, the 'forever young'. So everybody feels a sense of belonging. We've brought the family together.
Jesus is the head of our operations; I'm just the CEO. Everything that is happening is part of a plan. I have been commissioned to do this and I will not compromise. If everybody left, I would still be here. But it's not about me. When my season is over, someone else will take this up.
Prayer: the right foundation
Prayer is the foundation of this ministry. We have an intercessory prayer team that meets every Thursday; I'm part of it. I've got a staff that is committed; they love the Lord. We have one vision, one spirit. We also get support from the body of Christ, ministers who have been faithful to the ministry. Proper leadership is important. There is spiritual leadership and natural leadership. My leadership ability came from the Lord: knowing how to direct people, how to make the right decisions at the right time.

This station is not by chance or by accident. I had the license for three years because I got word [from God] that I would have a station, but I did not have the money to start. I prayed and sought God but I got really discouraged. God sent Reverend Asaf Pirali and we got together with other business people and they helped me to start.
Good Management
Everything big starts off small. Don't try to accomplish too much too soon. You need to take it step by step. At one time FBN tried to do radio, TV and print all at once and I realise that it was too much.
I'd also been in a season of my life before the station where I didn't practice proper management and proper accountability. If you manage properly what God has given you, He will increase it.
Getting the right people who are efficient and effective, but who share and understand your vision is important. Know when and how to invest. Buy property and always try to own your own. Don't be a debtor. We are in the process of attaining our own land right now. And don't try to do it all on your own. What happens with a lot of ministries is that pastors try to do everything themselves. But you need proper management skills either from outside or within for the effective running of your business.

People may believe that successful people have money to burn and spend wildly. The reason why business people are successful is because they count the cost and they know how to manage the little things.
I've seen a lot of leaders make wrong decisions and fall flat on their faces. You've got to stay connected to your source. What you have, He [God] gave it to you, so you have got to stay accountable to Him.
Tommy Cowan - CEO, Glory Music
Jamaican Tommy Cowan is definitely a veteran in reggae music, having been involved in the industry over four and a half decades. His father was a preacher, but young Cowan converted to Rastafarianism and dove right into the world of reggae, first as an artiste then as a manager. He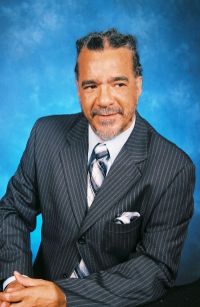 Tommy Cowan

has worked with Byron Lee, Peter Tosh, Bunny Wailer, Dennis Brown, Jacob Miller and Bob Marley, for whom he managed Tuff Gong Recording Studios until Marley's death. Tommy was also a Reggae Sunsplash MC, and lent his signature flavour to events across the United States, Africa, Canada, Europe, Japan and other Asian countries. Today, he is dedicated to producing gospel music with his usual perfection, professionalism and excellence through his 11-year-old company, Glory Music. Tommy refused to cut his locks because he believes that they stand as a testimony of where and what God has brought him from. He attends the Church on the Rock in Mannings Hill, Kingston, Jamaica with his wife, gospel minister Carlene Davis. Their seven children (five girls and two boys) range in age from 34 to 19 years; two are ministers of the Gospel.
I had a company for years called Talent Corporation, which promoted artistes like Peter Tosh, Bunny Wailer, Junior Tucker Innercircle, Ras Michael & the Sons of Negus and Zap Pow. I closed it down to manage Bob Marley's company, Tuff Gong Recording. But in 1996, I recommitted my life to the Lord and I opened Glory Music. We manage the affairs of Christian ministers Carlene Davis, Papa San, Junior Tucker, as well as the annual Fun in the Son festival in Ocho Rios and Kingston, which pulls over 30,000 youths, as well as the republishing of music.
God draws people to himself. My wife, Carlene Davis was diagnosed with cancer in 1996 and immediately after her bout with cancer, I had a similar bout and I decided that this was just the call of the Lord on our lives. Our children had started going to church and my wife and I followed.
Take it from one who knows
Understand that you are a steward of your business. It's about managing God's money. If you handle it foolishly, it will be taken from you. If you handle it wisely, you will be given more to handle. You also have to handle the business with Christian principles. All the principles you need are within the Book [the Bible] itself. We have a summer school in Kingston's inner cities, where we feed 350 kids everyday. We run some programmes in our high schools which are part of Fun in the Son - teaching them the purpose of wealth building according to Christian principles. This is the principle of sowing and reaping, which we live by.

Seek God in all you are doing. Even though sometimes, a plan looks great on paper, you have to go to the Lord with it. Some things are good, but they are not beneficial, they are not right for you.
Everything in your business is based on your faith. The Bible is a guide to your past, present and future. "Thou shalt not steal," is part of my faith understanding and belief. Faith is a lifestyle, and through your faith, you develop vision, purpose and understanding. You learn to ask yourself, "The agenda I have, is it MY agenda or is it God's agenda for me?" I believe people should seek the Lord to find out their purpose. We were all created with a specific purpose. Sight is a function of the eyes, vision is a function of the heart, God-given, which guides your everyday life. And God is a rewarder of your diligence. Have a vision. You should have a glimpse of your future. It's not about where you are today; it's about where you're going to be. Write the plan.
Mistakes to Avoid
It is better to do it right, than to do it over. It costs you less to do things right than to do them over. Never jump at anything without planning. And I don't really deal with things that I don't know about. Maybe the biggest myth people believe about business people is that because you have money, everything is ok. I know guys who showed me their empire and say, "It means nothing" because their wife left them for another man.
Pages
1
2
3
4
5
Comments
Post Commment