The church speaks out on the global financial crisis: Let wisdom prevail...
by Amanda Best and Upstream Staff Reporter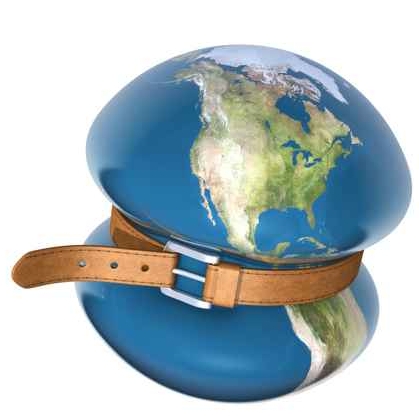 You wouldn't want to be John Smith. The global economic meltdown has forced John's employer, an established financial company, to file for bankruptcy. Mortgage payments on John's "dream home" became a nightmare he couldn't wake up from. In the space of one month, John has moved from the security of being a loans officer to a stay-at-home dad, and not by choice.
Over the past 12 months, the number of unemployed persons in the US alone has increased by about 5.0 million, and the unemployment rate has risen by 3.3 percentage points. According to the United States Department of Labor, US unemployment rate climbed to 8.1 per cent in February - its highest in a quarter century. Some 12.5 million people are now unemployed in the US alone.
News bulletins around the world are flooded with daily reports of joblessness in the US, UK, Spain, China, Russia and the list goes on. Not even the breezy West Indies has been spared.
For decades, the United States stood as an icon of financial strength, but that perception has take a big hit. The rumblings felt as early as December 2007, have since escalated into a full-blown crisis of epic proportions. Some have pegged the world's current woes on falling US house prices, subprime mortgages and defaulting loans. Others posit that the more systemic issues of inadequate regulation, faulty credit ratings, and good old-fashioned greed, are the more likely culprits. The truth, perhaps, resides in sentiments like those expressed by Russian Prime Minister Vladimir Putin at the recent World Economic Forum in Switzerland. Putin told delegates that the crisis constituted a "perfect storm," that had come "unexpectedly, just as winter comes unexpectedly to Russia every year."
Having trouble saving or getting out of debt? Here's Help
5 WAYS TO SAVE
Have a plan. Decide how much you're going to save and when. Be consistent.
Have a budget. Keep a track of how much income you have on a monthly basis and keep a record of how much you spend - from groceries to church tithes.
Treat savings like a bill. Pay yourself first each month - just like you should paying tithes. Have a fixed sum deducted each month automatically from your salary. This way unexpected expenses would not become a crisis.
Make sure the money is not accessible. Put it into a special account that does not have an ATM card. This will cause you to pause before taking money out of it.
Do not use the credit card. Using 'cash' will force you to respect your money and keep you from purchasing things on a whim.
But the domino effect that began in the US is certainly being felt in the Caribbean, causing everyone to rethink their risk and investment strategies. One of the sure signs that the financial cancer had metastasised to the region was when Trinidad and Tobago-based insurance and investment giant CL Financial admitted that it was no longer able to meet its commitments and accepted a bailout package from the T&T Government in order to secure depositors' pensions and investments.
In Antigua, Texas billionaire Sir Allen Stanford, ranked 239 on the 400 Richest Americans list in 2007, has left that island to sweep up a mess that they could well have done without. The news that Stanford, a naturalised Antiguan, was being investigated by the US Securities and Exchange Commission for an alleged $8 billion fraud, triggered a run on the Antiguan-based Stanford National Bank in February. The government of Antigua and the Eastern Caribbean Central Bank intervened to stop the haemorrhaging and allay depositors' fears. Still, according to a March Associated Press report the recently re-elected Prime Minister of Antigua, Baldwin Spencer, has expressed fears that Stanford might not be able to pay some 700 workers. The Governments of Peru and Venezuela have also had to intervene in local banks controlled by the Stanford group.
To calm widespread fear, political leaders have spoken up and acted swiftly. Jamaica's Prime Minister, Bruce Golding, in addressing the crisis, said: "We are all in this boat together and we must all navigate our way out of this crisis together." According to the January 2009 CMMB Investment Quarterly, the Dominican Republic signed a monitoring agreement with the International Monetary Fund (IMF) to protect its economy from the effects of the financial downturn.
But there are fallouts that even governments cannot control. Tourism accounts for three fifths of the export revenue of the Eastern Caribbean and declines in this sector are the clearest indication that the worldwide recession is taking root in the West Indies. The Governor of the Central Bank of Barbados, Dr. Marion Williams told reporters that that country's gross domestic product could decline as much as 2 per cent. "The greatest drain on total output, as in the case of 2008, is expected to originate from a contraction in tourism activity," the Governor said at a press conference in February. Tourist arrivals in the Bahamas have been falling since 2007, its Ministry of Tourism stated, and projections for the future don't look much better.
Juan Somavia of the International Labour Office (ILO) in a statement confirmed that "Some 200 million workers ...could be pushed into extreme poverty. We are now facing a global job crisis." Steel giant, Arcelor-Mittal confirmed this by sending home 120 T&T workers, while Digicel, once eager to dissolve Cable & Wireless' cellular monopoly in the Caribbean, offered voluntary separation packages to 450 workers.
It's possible to go on and on with stories about the unfolding financial tsunami. Suffice it to say that the face of the world has changed, and no one is quite sure of just when the downturn will turn into recovery. As world leaders rally to resuscitate confidence in their local economies, the local churches continue to encourage members to avoid a potential crisis of faith. Far from silent on the issue, church leaders in the Caribbean and around the world have been speaking out on the lessons to be learnt from the unfolding crisis. US-based Church leader Darrow Miller, for example, has been tackling the issues head-on on the Disciple Nations Alliance Team Blog. He wrote: "To solve the current economic crisis, we need to reform culture and we need to call the nation to a moral and metaphysical framework that supports a free, just and equitable society."
UpstreamMagazine.com spoke with five church leaders in Trinidad & Tobago about their response to the global economic downturn and how they're advising members to weather the storm.
Rev. Raj Badal, Abundant Life Tabernacle, Princes Town, Trinidad
"World structures are easily shaken but do not lose sight of eternal promises. I advised members to continue walking in obedience to God's principle of tithing, and trust Him to open the "windows of heaven" and pour out blessings promised in His Word. The carnally minded will love worldly cares but believers should not lose sight of the eternal promise. Society cannot continue thinking that the solution for this crisis is dependent on man's own abilities, but that God remains sovereign and we need to seek His wisdom. Reaching out to the community is a continuous effort for our church and we will continue assisting in whatever capacity we can. We must keep walking by faith and not sight especially in these times.
Rev. Wayne Rock, Laventille Church of the Nazarene, Laventille, Trinidad
"The stand-alone approach is not our style."
The scriptural principle discussed in Acts about being your bother's keeper was the counsel I gave our congregation a long time ago. I also suggested becoming more marketable, curbing spending desires and saving more. But some will fear and become anxious forgetting their earthly purpose. Remember: "God has not given you a spirit of fear but of power and love and of a sound mind." Having a lot of money does not mean safety and so our church realised the power of togetherness. We have partnered with another church to reach out to the community's need and to fellowship with them.
Pages
1
2
Comments
Post Commment