the R3 experience...
by Desiree McEachrane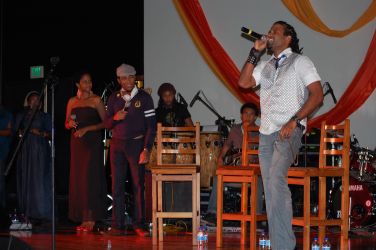 It's Rizon's turn at the mike. Ruth Osmon-Rose and Russell Leonce provide background vocals. That's an R3 thing! Photos by Desiree McEachrane
When three avant-garde Christian artistes come together to give a concert, the result is R3: a Righteous, Regenerating, Revolution. Ruth Osman-Rose, Rizon and Russell Leonce all graced the stage of UWI's Daaga Auditorium on July 25 and made good on their promise to break with tradition in their gospel musical expressions.
Rizon, best known for his conscious crossover hit Reach, gave the audience plenty of new material to groove to. Both Love Broadcast and Liberate, which talks about getting out of a draining relationship, were especially provocative. And Amnesia's infectious chorus made the audience nearly jump out of their seats. Rizon's energetic stage presence fit his unconventional outfit of jeans and an elegant shirt, skinny tie and waistcoat/blazer.
His signature preppy look in place, Leonce was more enigmatic, more worshipful during his sets. Floating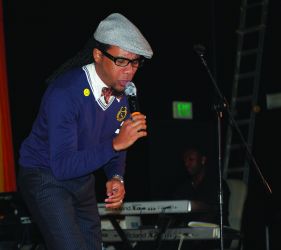 Russell Leonce
somewhere between jazz, neo-soul, R&B and traditional gospel, Leonce's commanding performance of songs like Troubles Won't Last changed the atmosphere into one not unlike the end of a Sunday morning worship session.
Osman-Rose's smoky jazz flavour took the mood down from Rizon and Leonce's more active sets. Wearing basic black, her jazz style cover of You Raise me Up captured the crowd instantly. Later, her velvet voice washed over the audience with imaginative "hybrids" like Rain where, dressed in a more casual blouse and jeans, she sung, recited poetry and played the flute flawlessly, to accompaniment by guitarist Marva Newton.
R3's intimate setting created a cozy atmosphere, the low stage and recessed lighting more reminiscent of a restaurant setting than of a concert. And the artistes literally shared the stage; while either one of them performed, the other two remained onstage to provide background vocals. When the trio synchronized on songs like Great Is Thy Faithfulness and Leonce's Unchanging, the result was musically precise and powerful.
"It was a beautiful experience and to me the best part about it was being able to express my belief," said Osman-Rose. "And I think that the audience responded to the honesty of it. I think that that is what touched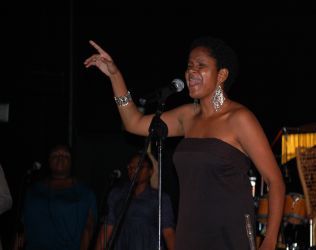 Ruth Osman-Rose
everybody."
If you missed R3, look out for another Righteous, Regenerating, Revolution on September 26.
Pages
1
Comments
Post Commment