Moving On
by Desiree McEachrane
Sean Daniel talks about his career in gospelypso and why it might be time to change the rules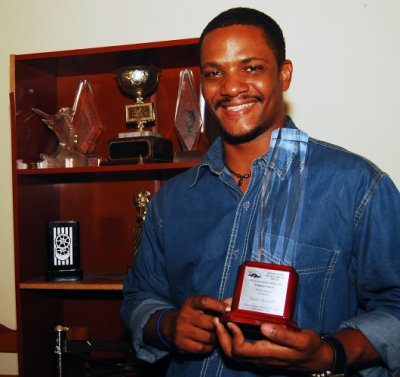 Sean Daniel stands in front of his trophy case. In his hand is the NJAC trophy that declares his song "De Real Ting" one of the Top 20 Calypsoes for 2009. Photos by Desiree McEachrane
Say 'gospelypso,' and many Caribbean people think immediately of Sean Daniel. Daniel has been singing Christ-centred calypso and soca music in calypso tents during T&T Carnival since he was 21, and has taken the music as far as South Africa, Europe and North America. But 2010 is the last Carnival season Daniel plans to spend singing in calypso tents.
"I've definitely had enough of the environment. Singing in the tent night after night, hearing cuss words, women tackling you hard even though they know you're married," he said, chuckling. "I give God thanks for the opportunity and move on. If I come back it would definitely have to be a word from the Lord."
This year, Daniel competed at Kitchener's Review, the oldest and most prestigious calypso tent around. He placed ninth at the Dimanche Gras finals, Calypso's biggest night, with his song God is Love. And though his performance was slightly marred by "technical difficulties" he's adamant that the message was crystal clear. The song will be put on the 2010 Dimanche Gras CD compilation and marketed to over 50 countries worldwide.
"I know it won the hearts of a lot of people there even though it didn't win the hearts of the judges. A lot of good things happened backstage; a lot of doors were opened," he added.
The winner of six Caribbean Gospel Music Marlin Awards, a Barbados Flame Award, a Sunshine Award for Best Gospelypso Recording in New York and the 2006 Young Kings Calypso Monarch, downplays his own iconic status in the genre.
"No one really knows how gospelypso got started. And I had no intention of doing this. It was nowhere in my heart's desires," he said of his annual involvement in the calypso tents, his popular albums, and his 'fame' as a Christian singing calypso in the middle of Carnival.
But even if Daniel didn't plan it, his life demonstrates that clearly Somebody was preparing him for ministry during Carnival. His early days featured a lot of Christ-seasoned indigenous music. Groups like Charis and Caribbean Witness and men like Dr. Lealand Henry, Dr. Lincoln Douglas, Francis Warner and Earle Philip really pioneered gospelypso in the Caribbean and in Trinidad, he explained. Charis co-founder, Earle Philip, was a member of Daniel's former home church, El Dorado Pentecostal (now called Global Missions Centre), so the calypso and soca flavour started to creep into worship as well. As a child and a young man, Daniel began to sing calypso himself, beginning with a precocious ditty called Doh Buy in a primary school competition: "… even if yuh hungry to die, doh buy, doh buy!"
"It was about not buying stale doubles from a vendor outside the school. Real 'wuk belly' people used to get. When I finish the guy had to leave from there," he said chuckling.
Now 34, Daniel can sing verses on demand, even if they were composed 20 years ago. He hates being photographed and is surprisingly laid back about his trophies for someone who has been in the public eye since he was 21 years old. But he is very passionate about worship.
After that first successful calypso, Daniel continued singing at school in Queens Royal College and even experimented with extempo. When he was 15, however, his youth leader at church asked him to lead worship for the youth meeting.
"Since then, I've never stopped leading worship, up to this day," he said. He's seen as a champion of the marriage of worship and local popular music. But Daniel maintains that traditional Christians were resistant to the possibility that soca could be worship music until David Rudder sang his iconic High Mas.
"If you've ever seen him perform that song, everybody have their hands raised in the air like is a worship session! He showed everybody how to use soca in an atmosphere of real praise and worship, just like a Don Moen or Israel Houghton." Christian musicians began to take their indigenous music more seriously as a way to praise God. So seriously that producer/songwriter Andrew O'Brien asked a 21-year-old worship leader named Sean Daniel to sing a gospelypso he only had two lines for: Pan in Heaven.
Fast-forward to 2010, past that explosive first single, past the rumours that he was a Carnival baby who wanted to bring his past into the church, past hits like Numbers, Waving Thing and 2008's controversial My Country. Daniel is now a family man with a steady job in the medical record department at Mount Hope Hospital, married to Venessa and father of a bright, talkative 5-year-old named Christian. He still fellowships
Pages
1
2
Comments
Post Commment