Lyndon Lai Tan In His Element
by Don-Juan Acosta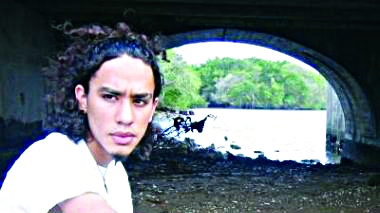 LYNDON LAI TAN in his ElementWith the modern worship movement in full effect, young newcomers to the Christian contemporary/rock scene are now more empowered than ever to explore lyrical themes that allow them to wear their faith boldly on their sleeves.
Such is the case of this upcoming artist. Enter Lyndon Lai Tan who hails from South Trinidad. The local Gospel music landscape to date has been flooded with the reggae, dancehall and soca genre of music. This makes Lyndon's alternative sound stand out and demand its space amidst the staple of contemporary Gospel offerings. His is a style some might consider 'edgy' but it's being egged on by a growing fan base for alternative gospel that, truth be told, was there all along.
Apart from his catchy melodies and above average guitar riffs, you can hear compassion and hopefulness in every note of his rich vocals.
Lyndon is currently in the process of planning a concert carded for July 12th 2008. Titled ELEMENT, this is an event to look out for as it promises to have a lot of surprises.
Upstream Magazine tossed 10 quick questions at Lyndon Lai Tan. It's a glimpse into the heart and mind of this talented young singer/musician.
Q When did you begin doing music?
A I had formal piano training at age seven and formal vocal training at age nine so I began pretty early on.
Q What is the most valuable lesson that you learned from your Parents growing up that you still apply today?
A Hard work.
Q If you could share the stage with any Christian or secular artist in the world (living or dead) who would it be?
A Linkin Park.
Q What Bible character do you most identify yourself with?
A Joseph because through all he went through he kept trusting in God and great things came even though things looked dark most times.
Q What do you have to say about (or to) artists that started off in the Christian industry doing gospel music and now sing secular with a watered down, or ambiguous message?
A It is my view that you can't stick Jesus down people's throats. They won't take the medicine. Some may look at these messages as ambiguous but I have learnt that subtleness works and I have learnt not to judge a person's work for the Lord. As a Christian our most powerful messages aren't from what we preach/sing but how we treat others.
Q Name something personal that gives you great satisfaction?
A Staying up late and watching stars out in the open.
Q What goes through your mind before you go onstage at the average show?
A Try not to buss, people go laff.
Q If you could speak to youths aspiring to start a music ministry like yours, what would you say?
A Work hard, trust in God and never give up, and set your goals. Also network. Help others to get what they want and you will get what you want. Love and kindness is contagious, so infect the world.
Q Why do you do music? What do you hope to achieve?
A To get through life. I do music to live in so many ways. It's an outlet for me to get out emotions. I'm fortunate enough that many people relate to the songs. Because I need God to get through life, my music will reflect that in many ways. Also there has been a burning placed in my heart from young to try to open people's eyes who can't see or forget there is a God because they know He is there. But funny how they only seem to see or hear him when something goes horribly wrong and when death is on their corner.
Q What is your ministry statement or mission?
A I don't really have one. I mean I wish I had one. I do what I love to do and what God placed in my heart. I don't know if that's a mission statement but that's the simplest and best answer I can give.
Pages
1
2
Comments
Post Commment