Fred Hammond is here
by Natasha Coker-Jones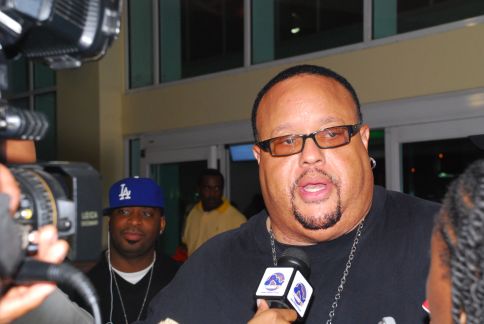 Fred Hammond at Piarco International Airport
Photos: K. Jones
Last night Fred Hammond touched down at Piarco International Airport in Trinidad for a highly anticipated Labour Day Gospel concert entitled "Illumination".
After clearing Customs and Immigration, the internationally acclaimed musical arranger, producer and vocalist dubbed "the Babyface of Gospel," emerged at around 9:30 from the automatic doors of the arrival terminal in a sporty black T-shirt, three quarter jeans, a Chicago white sox baseball cap, and a stylish cross dangling from his neck. Even after his long Continental Airlines flight, Fred appeared remarkably upbeat and graciously fielded questions from the handful of press hoping for an interview, including Synergy TV and UpstreamMagazine.com. Hammond didn't disappoint. He even took time to pose for photos before he and his entourage were whisked off in air-conditioned busses to their temporary home at the Hilton, Trinidad.
And from the looks of it, the Gospel music icon is ready for the big show. "We're going to praise like crazy; we're going to worship like crazy. We're going to worship intimately. We're going to pull ourselves out and love God and love the people. We're going to ask God to show up and get his presence on, right in the midst of us."
Hammond made a special appeal to the youth of T&T to come out to the June 19th concert at the Queen's Park Savannah. "This is a generation under attack…This generation is under a greater attack, but you got to understand your worship has to be greater. It has to be more intense, so come on out. Get your praise on. It's gonna be good!"
UpstreamMagazine.com asked Hammond if he had a word for those who might be fearful of their future given the global economic downturn, coupled with the recent and equally ubiquitous threat of swine flu: "Without God we're not going to make it," Hammond affirmed. "See what the world is coming to? And the Word doesn't say the world is going to get better; it says it's going to get worse. So we're going to need God to protect us. We're going to need the blood of Jesus to protect us. We're going to need him to cover our lives - period - for grace and mercy, and it's not just about finances or just about health, it's just sometimes God can give you one word that can change your whole situation around. We need the favour of God for that one word and that's what it's all about, and I'm telling everybody just trust in the Lord. That's all we got."
And as promised, Hammond didn't come alone. Ticket holders are in for the real deal as the concert promises to be as live as it gets. "We have about 16 people travelling with us and we're all here from Chicago, Dallas, Philly [Philadelphia] and Detroit and we're just here to praise God and have a good time. Everybody was looking forward to this trip. Everybody is geared up for this trip."
And what can Fred Hammond fans expect next?
"A brand new CD coming out September 29th Love Unstoppable. The first single features myself and John P. Kee [think the 1996 hit Stand with Ivan Powell and the New Life Community Choir]." Hammond promised that fans attending Friday's concert will get a sample of selections from his new album.
There's also a window of opportunity for local artistes who feel they have what it takes to make it big. Hammond said he is interested in collaborating with T&T's Gospel music artistes and will be looking for opportunities while here. "We're going to do something that takes a little more of a global approach with England and with the West Indies. We want to try to reach out a little bit and allow people to get a chance to put their music out globally for the international distribution system to get it so we can experience different music. So look for it…If you got CDs my guy will take a listen to it and reach out to some people, and I can put them through my distribution network and see what happens."
Between his work as a solo artist, the founder of the pioneering urban groups, Commissioned and Radical for Christ combined, Hammond has sold over eight million albums worldwide. He has also racked up numerous awards and nominations including the Grammy, BET, NAACP Image, Stellar, Dove and GMWA.
Check out UpstreamMagazine.com's photo gallery entitled Fred Hammond's visit to T&T for more photo highlights.
Pages
1
Comments
Post Commment