Sweet 'Change'
by Natasha Coker-Jones
Let's face it. In the land of buzzwords, 'change' is the undisputed premier.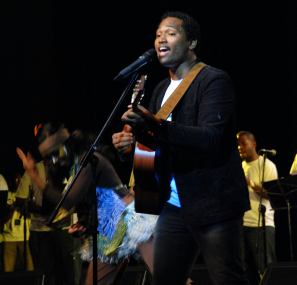 Worship Leader Mikhail Shah. Photos by Klenworth Jones.
The good news is that the title of the Trinidad-based First Church of the Open Bible's first major worship DVD project is the only (gulp) unoriginal thing that those who purchase the DVD would have to lovingly overlook. Seriously, once you get beyond the hackneyed title (sorry OB folks) listeners and viewers are in for a refreshing treat.
Thanks to caller ID, when Joanne Noel, the Church's PRO called about two weeks prior to the launch I had a few precious seconds to perfect my 'just-coming-out-of-anesthesia' voice.
"No I'm not sick Joanne I just feel really guilty about missing the live recording," I replied honestly. "Oh you do? Good. Well you have a chance to make it up to me, the launch is coming up and we want Upstream to cover it. Ok hon?"
Don't you just love kingdom women who know how to work it?
So with hubby/photographer in tow, I dressed up nice and Christmassy, splashed on my favourite smelling nice and journeyed down to the National Academy of the Performing Arts (NAPA) which I must add, after all the hullabaloo, is a really nice joint for such events. This was on Saturday December 18th and truth be told it was only my third visit to NAPA since it opened (Ok so I'm not quite the socialite people make me out to be). Nice choice by the way OB and I'm really pleased that you got to use it.
I'd be fibbing if I told you that I toc toced onto NAPA's glossy tiled floors knowing fully well what to expect from the private showing of the DVD that the media was invited to preview before the concert. As much as I've noted First Church's proclivity toward quality musical offerings (after all these are the folks that gave us Broadway Boys International. Hello!), it was still a church production and those of us who have been around long enough know that you're never quite sure what to expect with church-based outputs. Let's be honest: sometimes it's extremely good and you're left on a celestial high. But there are those times that things start out mediocre, shift gear to 'bad', and then capitulate to the point that you just sit there squeezing your eyes shut and people think you are deep in the blessed zone when in fact you are secretly praying for the rapture to come NOW and whisk you away so you won't have to suffer through to the bitter end.
This event, praise His name, was not of the latter ilk.
In fact it was so good and because it's that special time of year I've decided to deviate from my usual safe third person style and enter the high-risk world of the first person.
Someone, can't remember who right now, announced that we had a number of artists in the room designated for interviews. I scooted across to one end of the comfy cocoa brown sofa and began licking my chops. Yum yum interviews!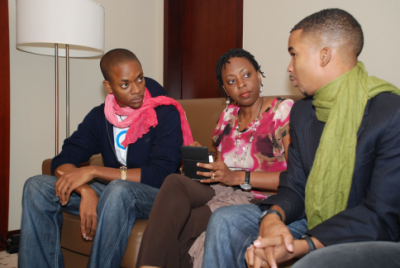 Here I am with worship leader Justin Zephyrin and Nyame Davis
Justin Zephyrine and Nyame Davis were my first interviewees. Right away I noticed these guys were pretty young: 26 and 21 respectively as it turned out. The next thing that hit me was the scarves draped oh so skillfully around their necks but in the true spirit of the season I behaved myself and didn't say boo. We are, after all, in the throws of winter here in this Twin Island Republic and NAPA is nippier than usual this time of year.
Justin is a worship leader and back up singer at OB, he helps coordinate worship services and is involved in vocal training and the youth choir. He was the first to explain about the title 'Change'.
"The word was declared on the church for change, this is why the DVD is called Change," Zephyrine explained to me.
" Uh huh," I mumbled scribbling fervidly while silently entreating the Father to forgive me for even thinking the title was less than perfect.
"This (the DVD) is the word coming to reality," Zephyrine continued.
Davis, backup singer on the Change DVD , choir member and member of the First Church-based Sin Surrender, talked about how tough it was preparing for the live recording on August 29th 2010.
Pages
1
2
3
Comments
Post Commment