A HUSH over the Caribbean
by Natasha Coker-Jones
When debutante filmmaker Marcia Weekes decided to make a movie called HUSH on the topic of abortion, she never imagined that her film would offer such catharsis to Caribbean people.
In Barbados, her home, HUSH, received a standing ovation at the premiere; some even cried.
When UpstreamMagazine.com caught up with the dance teacher turned filmmaker during a trip to Trinidad, she was engulfed in squeals of excitement from the mostly teenaged audience. In the main hall of the First Church of the Open Bible, San Fernando, students from the nearby Open Bible High school sat spellbound, not even caring for a bathroom break throughout the near hour-and-a-half long film. The movie is centred on a character named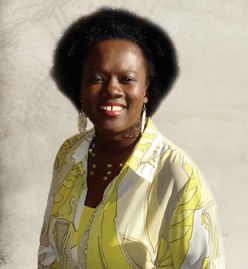 HUSH Producer Marcia Weekes
Mikisha - a sexually active 15-year old (played by Sophia Thomas). Just months away from writing CXC, Mikisha finds out that she is pregnant. The plot thickens as she's ditched by her 21-year-old boyfriend Troy (played by Andrew Thornhill) and left to muddle through the consequences of her actions and decide whether or not to keep the baby.
The movie was filmed in Barbados and was first shown to adults and school children there. It has since made the circuit to Jamaica, and to Trinidad. Barbados notwithstanding, mainstream Caribbean media have been lukewarm in their coverage. But that has done nothing to thwart the groundswell of support from thousands of teens, who are already eagerly awaiting HUSH 2.
The story behind HUSH is probably as intriguing as the movie itself. It all began last May.
"The Lord woke me up at five one morning in May 2008 and told me that he is calling me to write movies," the 40-year-old mother of three said. "He told me that he wants me to do movies that would teach his principles to society, to the nations. He wants people to know his heart on various issues. So I asked Him 'what should I write about?' And He told me abortion."
The name HUSH came about because, in the Caribbean, abortion is something people keep quiet about. "It's not something that people broadcast. We're saying that there is a silence that surrounds the killing of the babies. The babies can't speak for themselves. They are hushed...The pain is silent as well. What the women go through."
So God said I want you to make movies and then bam! Movie number one?
Weekes chucked at that. "I researched the material. I went on the web. I interviewed people. I prayed a lot. I fasted. I tried to get God's heart - what He wants to say. I knew he did not want to make a political statement about it, whether you're pro choice or anti abortion. It wasn't the point. He wanted His heart. So I had to research the Scripture. I read up Scriptures about babies and purpose and destiny. Psalm 139, Jeremiah 1, those were foundational Scriptures."
But the Jamaican-born writer and producer also knew that she needed professional help and sought it in the person of her friend Cassandra Hollis from the United States. "She co-directed the movie and guided me along. She acted like a midwife really because she had done movies before."
Weekes is the Artistic Director of the Praise Academy of Dance, which has branches in Barbados, Jamaica and Trinidad. As director of the Barbados Chapter she has written two other scripts for musicals but, "I've never
Co-director Cassandra Hollis
written a movie before. It was a real learning experience because it is different, much different from writing a script for a stage."
It took Weekes a weekend to write the script's basic elements. Over the next couple of weeks she kept adding and making changes. "I would send it to [Cassandra] and she would look at it and give me feedback. She then came down to Barbados [for filming]."
Not surprisingly, financing topped Weekes' list of challenges. "But let me hasten to say that every time we came upon a situation, the Lord provided." The movie cost TT$90,000 or $30,000 Barbadian dollars. "People rallied around the particular topic...We were all amateurs, so the cast was all volunteer. The technical persons, we had to pay them: the videographer, the sound technician, the music director - those people were paid. The locations were donated; nobody charged us for anything."
The team was able to cover expenses because people "got interested" and came out to the cinema to see the movie. "We would love the government or companies to sponsor it so we can give it to the kids for free," Weekes said. Despite all odds, HUSH 2 is already in the making and is expected to be released in Barbados on July 31 and in the rest of the Caribbean in September.
It was at the August 1 premiere at Olympus Cinema in Barbados that Weekes realised that HUSH's message would resonate in the hearts of Caribbean people.
"I was really nervous, I didn't even sit down I was standing at the door. I didn't even know how it was going to come out. At the end of the premiere, we had a question and answer (session) and we thought people were going to ask 'well how did you make the movie?' Instead they were dealing with 'well I had an abortion and I did this...' And I was like 'Oh my goodness...' We didn't know what to do with it after that."
Pages
1
2
Comments
Post Commment