Emotional Affairs
by Pastor Bridgelal Seenath
John and Sally were married for about 10 years, blessed by God with three wonderful children and a beautiful house. This family was actively involved in the church and faithfully ministered in various capacities. John was promoted to leadership functions in the church that also involved counselling.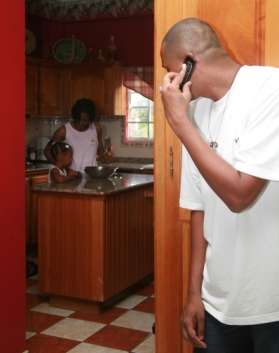 He became attached to a young woman who initially sought his help with devastating marital problems. But beyond the counselling, he developed and maintained a close relationship with his counsellee, Martha. Over time, they would often call each other on their cell phones and spend many hours chatting on the Internet.As far as John was concerned, he was not doing anything wrong since they were not physically involved. His wife trusted him and Sally's husband really felt that John was a concerned friend of the family.
But it became difficult for John to get Martha out of his mind. The friendship had moved to a deeper level of intimacy. Being a man of high moral standards, he battled for two years with his feelings, hoping that they would just disappear. They did not. In fact, emotions became so intense and inflamed that it wasn't long before they were both willing to risk anything to be with each other. And they did.
John's wife Sally learned of his infidelity and was unable to cope with it. The couple separated and Sally went to another country to start a new life. John was stripped of all his positions in the church and was advised to submit to counselling. Martha's marriage worsened but she and her husband decided to work it out on the condition that they relocate, and attend another church.
HOW AFFAIRS BEGIN
Many people involved in emotional affairs never thought it could happen to them. An emotional affair is an "illicit non-physical relationship that grows in intensity resulting from strong romantic feelings and a special willingness to care for each other." In these affairs there is a very intense emotional attachment where the two persons involved become 'soul mates'. They are consciously aware of their feelings for each other and feel a sense of romantic satisfaction, belongingness and ecstasy that is often, they confess, lacking in their own marriage. Their fulfilment, more than actual sex, is in the moments they share with each other.
Father and daughter counsellors, Dr. Willard and Dr. Jennifer Harley, state in their book Surviving an Affair that, "The power of unmet emotional needs explains why people are willing to give up their spouse as well as their children, career and beliefs to have emotional needs met." There are many married couples who lack romantic attention and are tempted to find satisfaction from another, usually one with whom they have already developed a close relationship. And what appears to be 'kindness' to a good friend turns out to be an affair.
This is one of the reasons that it is critically important for a married person to ensure that his or her spouse is romantically and emotionally satisfied.
DECEPTION
It is unfortunate that when we address the subject of adultery, we often define it mainly as the physical act of illicit sex. We must go beyond the physical to understand that adultery is also committed in the emotional realm. Jesus emphasised this in Matthew 5:27-28 when He stated, "You have heard it was said 'Do not commit adultery.' But I tell you that anyone who looks at a woman lustfully has already committed adultery with her in his heart."
Therefore, it is not only about refraining from physical sex, but about the intent of your heart and being drawn away by lust, which according to Jesus is sin. We are often made to feel that romance is a necessary part of our lives and therefore we must find satisfaction, no matter who it comes from.
We are all created with romantic feelings but these are to be fully satisfied in the context of marriage and only with our spouse.
When Paul in I Corinthians chapter seven speaks of the wife's body belonging to her husband and the husband's to his wife, it refers to their whole self, including their emotions so that it is immoral to engage in an emotional affair, because you are giving to another that which does not belong to you.
MINDSET
John lived in a divided world: one of reality, the other of fantasy. The fantasy world brought more pleasure to him. He reflected on the nice things Martha would say to him, the occasional embrace and the satisfaction she found in him. It is possible for any one of us to find ourselves in such a mental state. Our thoughts stir up our emotions and the pleasure we experience causes us to crave more.
With these images etched into our minds, it becomes a task to dismantle our thinking and free ourselves from their constant bombardment. Another thing to consider is the practice of remembering past sinful experiences so as to enjoy the memory of it. This will lead to insatiable craving again.
The only solution is to repent of our mental sins and diligently commit ourselves to be transformed by the renewing of our minds, according to Romans 12:2. The Bible says to set your minds on the things above (Colossians 3:1) and "if anything is excellent or praiseworthy - think about such things" (Philippians 4:8). Lust begins when we allow ourselves to be drawn away and enticed by Satan's bait (James 1:13-15). Deliverance comes only as you change your thinking and firmly believe that true satisfaction is only in Christ and true relational satisfaction should only be sought within marriage.
OUT OF CONTROL
John and Martha grew so emotionally attached to each other that their whole lives surrounded their love relationship. They made every effort to keep it secret but soon learned that their mutual affection could not keep
them apart. Emotional affairs do not remain secret for too long because the intensity of affection forces one to almost risk reputation, job, family and even their relationship with God to be with that person. When things reach this state and get out of control it causes much damage, pain and disruptions not only to those involved, but their spouses and families.
Fortunately, God always provides a way out of our own failures and mistakes. Jeremiah 29:11 says, "For I know the plans I have for you, declares the Lord, plans to prosper you and not to harm you, plans to give you hope and a future." Surrendering to His will does not mean that the consequences of our bad decisions disappear or are any less painful, but He promises to bring healing and restoration when we seek Him.
Pages
1
2
Comments
Post Commment