'STREET PASTORS' COMING TO A TOWN NEAR YOU
by Natasha Coker-Jones
"Street Pastors is about Christians rolling up their sleeves and getting involved in practically responding to the problems of crime and safety. They are like beacons on our streets and I want to see them shining brightly in every constituency."
David Burrowes MP/UK
Plush seats, air conditioned sanctuaries, multimedia announcements and soul-stirring sermons. If these are your only images of church in the 21st century, then perhaps you need to look again. Street Pastors, a growing organization of Christians who have no qualms being seen outside of clubs and bars to help people in need, is gaining momentum across the UK. In fact the programme has had such an impact in UK communities that Trinidad and Tobago wants to adopt it.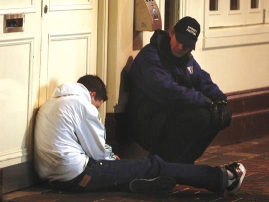 A Street Pastor in Swindon gives a comforting word.
Street Pastors is an inter-denominational Church response to urban problems. As the name suggests, they are a group of believers who engage with people on the streets to care, listen and help. The organization started in London in January 2003 by Rev Les Isaac, Director of the Ascension Trust. Seven years later the initiative has been credited with drops in crime in areas where teams have been working. There are now over 100 teams around the United Kingdom.
The programme's effectiveness can be attributed in part to what is called the Urban Trinity. This is a response which includes the Church, the Local Government, and the Police. Street Pastors get to know people in the community and build relationships so they can get an accurate assessment of the practical things that can be done to help improve people's lives.
In a 2010 letter of commendation, the police praised the Street Pastors in Swindon, a community based in South West England, for their "drive, determination and passion." Swindon has 17 pubs and clubs within a quarter of a mile radius so that part of the group's response in that community focuses on tackling the binge drinking culture and its natural fallout. The letter of commendation also stated that the local Street Pastors are "most welcomed by the Police and are seen as an asset by all organizations that work within the night time economy of Swindon."
Trinidadian Ms. Christine Macmillian & Ms. Deborah Dowlath (standing on either ends in yellow jackets) during a training session in the UK for new Street Pastors.
Local churches work together to coordinate the local Street Pastors initiative. Those who are involved subscribe to the organization's core values which include: the sacredness and sanctity of life; valuing and honouring the community; being a person of integrity; taking personal responsibility; and the growth and development of the individual to their fullest potential. At least four Churches from different denominations must be involved before an initiative can be started in a community. Together they provide a base for the Street Pastors to meet, pray and minister. Once a new community initiative is registered, church members of various denominations are invited to apply to become Street Pastors. All Street Pastors must meet the requirements before they can be accredited and be given official Street Pastors gear which includes branded caps and jacket or shirt.
Requirements for Street Pastor membership include:
Must be 18 years and over;
Be a committed Christian for more than a year;
Must have obtained a positive reference from their Church leader/Minister;
Must have obtained a Police Certificate of Good Character;
Must have completed the Street Pastor Training Course.
When the Street Pastors team was set up in Taunton, the County Town of Somerset, England back in 2008, they were instrumental in aiding a Good Samaritan who had given chase to a grab and run thief to contact the duty police sergeant. As a result of the intervention the police was able to reunite the stolen handbag with its owner. BBC Somerset, who accompanied the team, was also able to capture the positive reactions of the local young people to Taunton's new Street Pastors.
Rev. Les Isaac visited Trinidad and Tobago in March 2010 and presented the Street Pastors concept to representatives of the local Church, NGOs and Government. Since his visit six persons have journeyed to the UK to receive training that would give the local initiative a better understanding of what is required. Each Street Pastor city project is set up by Ascension Trust and run by a management committee with a local coordinator to handle the day to day operations. They are supported by Ascension Trust and local churches and community groups, in partnership with Police, Council and other statutory agencies. Trinidad and Tobago is hoping to have a team in place so it can commence this country's first Street Pastors initiative in the Tunapuna community as early as January, 2011.
For more information about becoming a Street Pastor or getting your Church involved, contact Ms Candice Ashby at 868-221-6012.
Pages
1
Comments
Post Commment