My Trip to Haiti
by Curtis King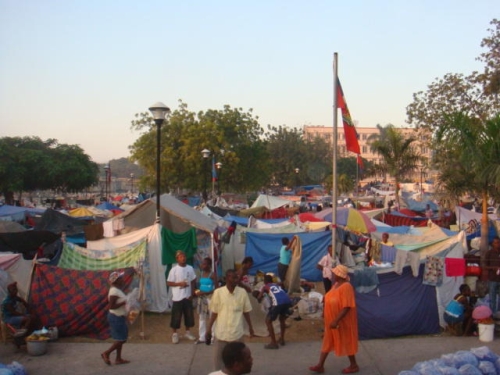 One of the many slums that are now makeshift homes to earthquake survivors in Haiti.
The past is never completely lost, however extensive the devastation. Your sorrows are the bricks and mortar of a magnificent temple. What you are today and what you will be tomorrow are because of what you have been.
Gordon Wright
I have found out that you never really get used to seeing devastation on any level whether domestic or foreign. One would imagine that after enduring a series of Hurricanes in 2008 that nothing else could go wrong for the Haitian people. Well, on January 12, 2010 something did. A 7.0 earthquake ravaged a country with the already unenviable label of being the poorest in the Americas.
In this piece I would attempt to capture my time spent in Haiti assisting the group Is There Not A Cause (ITNAC), a group founded by Anonelle Hector Joseph, with relief efforts. When the news of my impending trip to Haiti got out, I was flooded with calls and questions like: " Boy they looting over there, you sure you want to go?" or " Why you want to leave your wife and newborn son, to go help people you don't know?" and my personal favorite, "The US is over there and cannot even get the aid out, what can you do?" I must confess that I spent a few days glued to BBC & CNN trying to get an up to date assessment of the situation, because a bit of fear did step in. But my fear was soon replaced by my compassion. After all, is there not a cause?
My journey began on the evening of January 19th 2010, when we boarding a Copa Airline flight to Panama City and connected to Santo Domingo. We arrived there at 12.30 am. Naturally at this point all 26 of us were extremely exhausted. Nevertheless we slowly filled the bus that would transport us across the border into Haiti - a trip that would take 11 hours. Yes I said it, 11 hours. Now during that 11 hour drive we praised, slept, got lost, thought we were being hijacked, and then slept again. So all in all I guess it would be fair to say that the first leg of this missionary trip came right out of the movie Are We There Yet? But unlike the cast of that 2005 movie, we were not greeting by elegant skylines. The place had virtually flattened, yet what struck us the most was when we saw the locals going about seemingly 'business as usual'. One member of the team voiced what we were all thinking: "Is this Haiti?"
It's now Wednesday morning approximately 11.55 am when we finally arrived in Chambrun, Haiti, which would be our base for the next couple of days. Here we met one of ITNAC partners Pastor Esperandieu Pierre, founder of the Nehemiah Vision Ministries, an organisation seeking to bring change and support to the
Children now homeless following the earthquake.
Haitian people. Pastor Pierre gave us an assessment of the situation and how we can be of assistance. He also informed us that soon we would see firsthand the devastation that was so widely reported by the international media, something that no member of the team would be ready for. Sure enough we quickly realised that we were actually in Haiti. Driving further into the capital Port au Prince we saw the much publicise mass graves, what was left of the Presidential Palace, UN & US troops everywhere, and what appeared to be thousands of people living out of tents made of sheets. Our cry at that point was a unanimous, "when do we get started?"
Thursday 21st January 2010
The assignment for today was to set up a clinic in an area called Mais-Gate, Port au Prince. Now the challenge for me at this point was "Am I going to see dead bodies? What should I do if I get 'jacked' for my food? And is it going to be another five hour drive?"
When we got to the Mais-Gate Church of God, people were already there waiting to access medical care. But while there they were waiting, they were singing praises and rejoicing. Picture in your mind's eye for a moment, people who lost their homes and love ones and are now living on the streets, singing and rejoicing.
We quickly set up two work stations and one pharmacy, which really were just three tables. Then we began. We were able to attend to at least 75 persons - women, men and children. Assisting the medical team that day was at times a very emotional experience for me especially having to see babies in pain. One family however stood out to me. This mother of four children aged ten, eight, four and four months lost everything they owned and had no choice now but to live on the streets, without food and water.
While there, we experienced another aftershock, this one measured 6.0. Witnessing this made it very clear to me that the reality of January 12th was, and still is, very present in the minds of the Haitians.
People were rushing out of building in the hope of salvation. One woman was inconsolable because the memory of losing 10 of her family members only a week ago was too much to handle. However we were able to provide some level of comfort, so that the clinic could continue.
Later in the afternoon another aid group brought packaged meals for us to distribute. While doing so it became very clear that this "good idea" had the potential to escalate into a riot scene straight out of the movies. This was the first time while on this trip that I felt my life was in danger, but my feeling of fear subsided when I realise that we had enlisted the services of at least five plain clothes Haitian police officers. Their presence quickly brought some semblance of order.
Pages
1
2
Comments
Post Commment